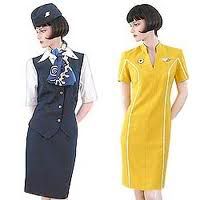 Transfer America recently found an article on CNN that describes how a man has been collecting flight attendant ensembles since the 1980s. Though these uniforms aren't considered highlighted fashion they represent the fashion trend from the past to present. Cliff Muskiet proudly displays his collection on his website at uniformfreak.com which allows people to glance at how these uniforms have changed over the years.
Muskiet commented, "I love airplanes and everything that comes with it. When I think of an airplane, I automatically think of a stewardess. When I think of a stewardess, I automatically think of a uniform. When I think of a uniform, I want to have it."
Since the release of his website, Muskiet has been receiving requests to display his collection at shows and exhibitions. These people have contacted him so that more people will be able to see the different eras of style and history.
Muskiet stated, "You can see the fashion change through the years when you look at the stewardess uniforms. I love the 1970s psychedelic patterns and color combinations: yellow, red, orange, purple, green, white, blue. Every color was used and everything was possible."
Over the years, famous designers, such as Christian Lacroix, Nina Ricci, and Giorgio Armani have created pieces for the aviation company though they are not always a work of beauty. Even though the outfit may have a designers name on it, it is not always a masterpiece. For example, Saint Laurent, a well-known designer, creates beautiful women's clothing. However, in the 1980s he designed a horrendous uniform for Qantas.
Muskiet stated that he will continue to invest in his collection as long as the aviation industry allows him to purchase their attire. He wishes to "preserve and further chronicle the historic link between airlines and the styles they continue to spawn.